Will you be in San Diego for Valentine's Day? How about the weekend before? If so, here are some ideas to inspire your romantic side and maximize your weekend. With incredible weather, even in the winter, and an elevated restaurant scene, you are guaranteed a killer weekend in this city
Go to a Museum
The month of February is very unique for San Diego – it's Museum Month. Pick up your museum month pass at any San Diego Macy's location and gain admission to 40+ San Diego museums at half price. Walk through the Hall of Fishes at the Birch Aquarium at Scripps, admire vintage surfboards at the California Surf Museum, enjoy the peaceful outdoor garden at the San Diego Chinese Historical Museum and explore the modern art at the Museum of Contemporary Art Downtown…and those are just some of your options.
—
Watch a Movie – Outdoors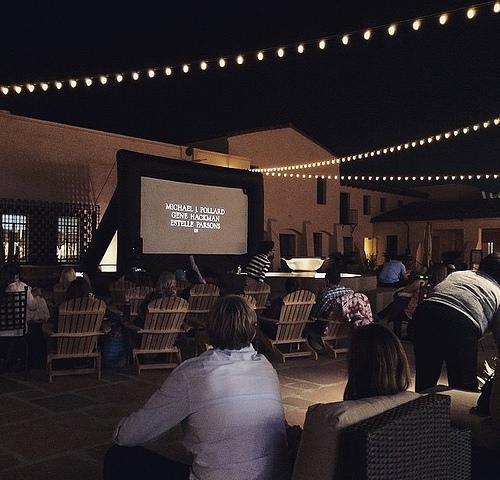 Photo Courtesy of The Headquarters at Seaport Village
Whether you have your other half or the whole family with you, head to the Headquarters' Couartyard (near Seaport Village) to watch Bonnie & Clyde at 6:00 PM on Feb. 14th. Bring blankets, chairs and snacks and enjoy this romantic and mysterious classic under the stars. No need to purchase a ticket, admission is free.
—
Enjoy a gondola ride through Coronado
Photo Courtesy of The Gondola Company
Cruise through the Coronado Cays in a gondola, complete with a dessert plate, an ice bucket, wine glasses and blankets. For the romantics, you may reserve a violin player to accompany you. Guests are invited to bring their beverage of choice. Pick up a bottle of bubbly and set sail.
—
Taste Local Craft Beer & Wine
Photo by Kim Marcelo
As you may know, San Diego is a craft beer capital. However, you may not know that San Diego County is home to more than 100 wineries. No matter your preference, you will find something you and your significant other love with this interactive San Diego winery map and this brewery guide. Our favorite: The Cork and Craft – a delicious restaurant with a unique bonus. It's the only restaurant in San Diego County with a brewery and winery inside, award-winning Abnormal Beer Co. and Abnormal Wine Co.
—
Catch a Gull's Game
Photo Courtesy of the San Diego Gulls
Only a 15-minute drive or Uber/Lyft from Ocean Park Inn, the San Diego Gulls hockey games are – in our opinion – one of the most fun places to be in the evenings. They've already won 18 games this season, be there for the next one. The next two games are Sunday, Feb. 12th and Tuesday, Feb. 14th, and the rest are listed on the schedule.